Using data to identify sales trends and operational inefficiencies allows companies to act quickly to implement change from the store level up.
If you are not getting this foundational level of field reporting, it's time to go to market.
Whether your organisation has its own internal field team, or you engage a field service provider, retail reporting matters more than ever in 2021 and you can't afford to be left behind.
In today's fast-paced retail environment, decision-makers must be data-centric to achieve success. Using data to identify sales trends and operational inefficiencies allows companies to act quickly to implement change from the store level up. Pushing the envelope with such speed and agility can be transformational for a company's bottom line.
While the current retail trends are largely driven by the surge in e-commerce, it is surprising how many companies are yet to fully grasp the fundamental basics of data and the impact that accurate reporting can have at a store level. As the retail industry experiences a buoyant start to 2021, there are ample opportunities to leverage the current market conditions to improve sales by simply reviewing reporting practices. This includes mining and analysing data that, in many instances, already exists but is not being accessed or used effectively. This is without even touching on the advanced Business Intelligence (BI) capabilities that certain agencies have in-house.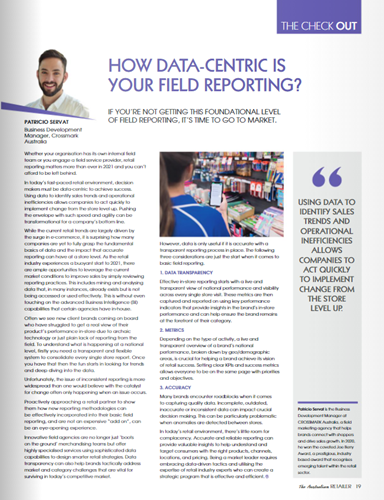 The Australian Retailer June 2021
Often we see new client brands coming on board who have struggled to get a real view of their product's performance in-store due to archaic technology or just plain lack of reporting from the field. To understand what is happening at a national level, firstly you need a transparent and flexible system to consolidate every single store report. Once you have that then the fun starts in looking for trends and deep diving into the data.
Unfortunately, the issue of inconsistent reporting is more widespread than one would believe with the catalyst for change often only happening when an issue occurs.
Proactively approaching a retail partner to show them how new reporting methodologies can be effectively incorporated into their basic field reporting, and are not an expensive "add on", can be an eye-opening experience.
However, data is only useful if it is accurate with a transparent reporting process in place. The following three considerations are just the start when it comes to basic field reporting.
1. Data Transparency
Effective in-store reporting starts with a live and transparent view of national performance and visibility across every single store visit. These metrics are then captured and reported on using key performance indicators that provide insights in the brand's in-store performance and can help ensure the brand remains at the forefront of their category.
2. Metrics
Depending on the type of activity, a live and transparent overview of a brand's national performance, broken down by geo/demographic areas, is crucial for helping a brand achieve its vision of retail success. Setting clear KPIs and success metrics allows everyone to be on the same page with priorities and objectives.
3. Accuracy
Many brands encounter roadblocks when it comes to capturing quality data. Incomplete, outdated, inaccurate or inconsistent data can impact crucial decision making. This can be particularly problematic when anomalies are detected between stores.
In today's retail environment, there's little room for complacency. Accurate and reliable reporting can provide valuable insights to help understand and target consumers with the right products, channels, locations, and pricing. Being a market leader requires embracing data-driven tactics and utilising the expertise of retail industry experts who can create a strategic program that is effective and efficient.
| | |
| --- | --- |
| | Pat is the Business Development Manager at CROSSMARK Australia. Pat has worked his whole career in the retail industry including for global powerhouse Apple, and other marketing agencies looking after McDonald's, Australian Geographic, and Woolworths. In 2020, he won the coveted Joe Berry Award, a prestigious, industry-based award that recognises emerging talent within the retail sector. |